Ever wondered what it takes to stay safe in monster waves like Nazaré,
Portugal
? Well here's a look at my tried and tested big wave surfing equipment...
1. Tiki Zepha 6.5.4 attached hood. This is my most used suit throughout the winter months, keeps me toasty on the ski and warm enough for marathon sessions when the surfs pumping. It's been modified so I can wear the Patagonia inflatable vest underneath.

2. Custom tiki vest. I sat down with the guys at tiki and designed this impact/float vest for paddling and tow surfing big waves. It has loads of foam on the chest but none on the stomach which makes it really nice to paddle in, it also has foam side panels and back panels and 2 side zips with overhead entry which makes it harder for it to be ripped off in violent wipeouts. It's made with 1mm super stretch so I can wear my patagonia inflatable vest aswell on the giant days just in case I get pushed supper deep. When wearing both vests you could probably float a small car!

3. Patagonia inflatable vest. This little bad boy is a complete game changer in the big wave game. I was really lucky to get sent this by Gabe Davis from Patagonia and can't imagine life without it now. It has 4 CO2 canisters attached to an inflatable bladder, which means you can inflate and deflate 4 times. It's small and comfy and you wear in under your suit. My family are stoked I have it!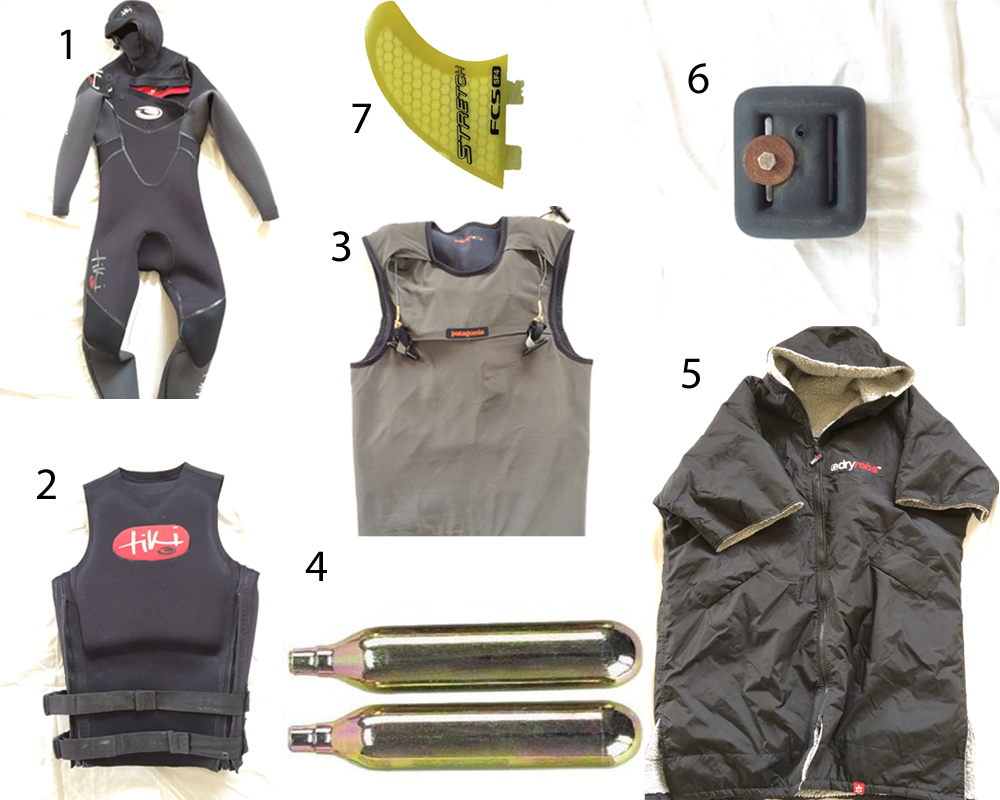 4. CO2 canisters. I always take loads of spares of these which I use in my Patagonia vest. You can pretty much buy them at any bike shop in the world which is handy. You don't want to run out if you're having multiple big wave sessions in remote places!

5. Dryrobe. Changing out doors in the cold, driving with your wet wetsuit or just want to keep as warm as possible when prepping kit before and after sessions, you need one of these Dryrobes. You won't be disappointed.

6. Dive weight. From my experience Towing big waves or super slabs the weight of your board is the most important thing and can seriously affect the board's performance. I've started to get this dialed now and have various dive weights I travel with which screw onto the deck of my board depending on the conditions, size and where I'm surfing. This enables me to travel with 1 tow board and know no matter what the conditions I'm prepared.

7. FCS stretch quads
. These FCS Stretch quad fins have ended up being my favourite this winter, I've ridden them in my biggest guns to some mid-range pin tails and they fly.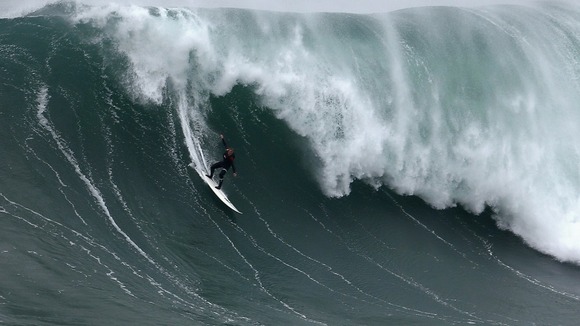 8. Gulfstream tow board
. I worked at gulf stream surfboards in North Devon for 10 years, glassing and shaping when I finished school. They've made my tow boards since the beginning, it's great because I know the care and attention that goes into making a board like this and it's good to be involved with the manufacturing process, and they've never let me down. This boards 5'8 x 16 x 1'7/8 it has 2 lead stringers for strength and extra weight and is the only tow board I've ridden this winter.
9. Mercedes Vito sport. Fast, comfy and I can fit all my boards including me 10'6 guns inside plus 4 passengers. This is the ultimate surf wagon when going on big wave missions in Europe.

10. Jet Ski. No matter what waves you surf, big, small, paddle or tow every surfer at some point wants a jet ski to play around on. For me it's my life line, key for safety but also to whip me into some serious lumps of ocean at any opportunity. This skis a Yamaha 1500, seriously fast which can be essential when it gets huge as the waves travel so fast but also pretty dangerous in the wrong hands!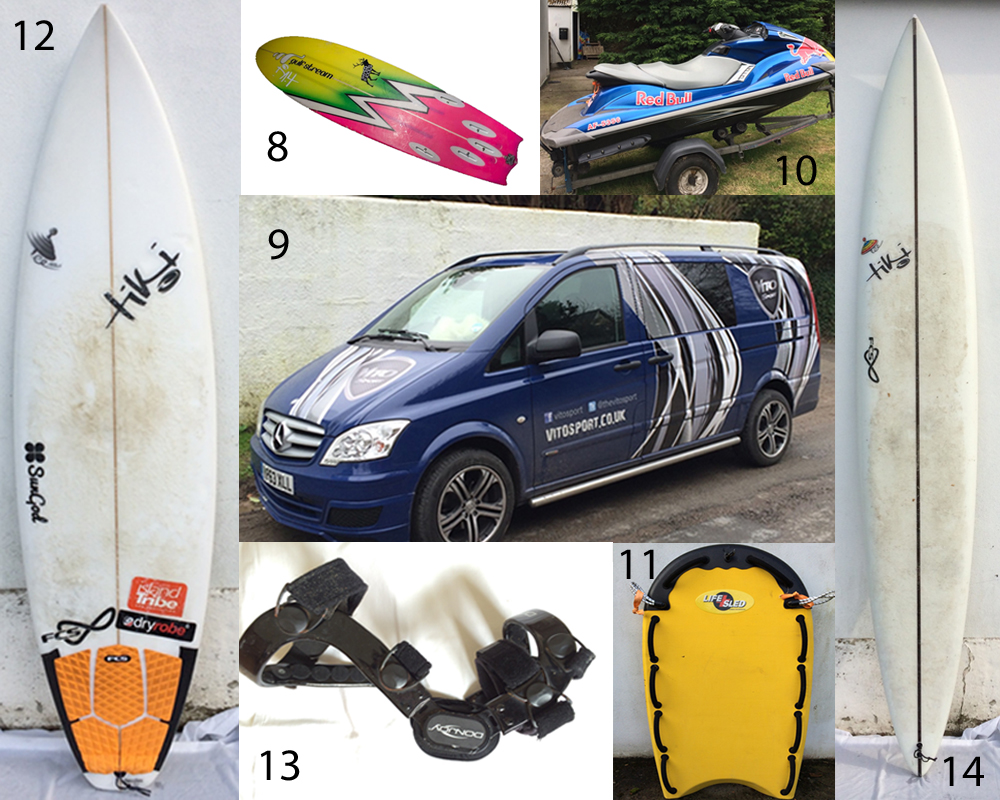 11. Life Sled. Like a giant boogie boards this does exactly what it says, it attaches to the ski and is used for rescue and will probably save your life at some point when surfing big waves.

12. Short board. 6'0 shortboard, no matter where I'm going or how big the waves are going to be, I always like to take my shortboard. You just never know when you'll find a fun little wave to have a quick surf and paddle.

13. Donjoy knee brace. I now never surf without this brace. I've had 2 full ACL reconstructions on my left knee. It all began in my early 20s after a skateboarding injury. I only wore the knee brace to begin with while I was waiting for operations to keep me surfing but now wear it to protect my knee more than anything. Super lightweight I hardly even know it's there and gives me loads of confidence.

14. 10'6 Rob Vaughn gun
. I got this gun last year and have surfed it at pretty big Nazare and in the BWWT comp at Punta Galea, it holds a lot of volume and paddles like a dream. It's the biggest board in my gun quiver as my other boards are 10ft and 9'2.
More from Andrew Cotton: What it's like to surf Portugal's biggest wave: Nazaré