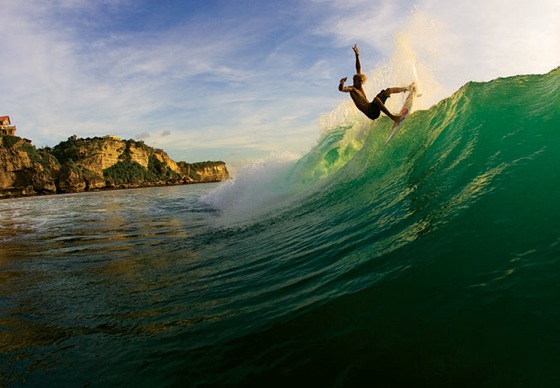 The ASP's world championship surf tour is charging full ahead with the Autumn season of events happening one after another. Event number 7: the Hurley Pro at Lowers, Trestles in California came to a close last week.
Kelly Slater (USA) took the win over Owen Wright (AUS), solidifying his lead in the world rankings for a week or so, but Wright is only just behind him. The top 10 surfers in the world are battling fiercely to bring down Slater, and with only 4 events left to go, it's anyone's to win.
Here's how the rankings stand before we see the tour come to our stunning european shores, when the Quiksilver Pro France starts next week in
Hossegor
, France...
| | | | |
| --- | --- | --- | --- |
| Ranking | Name | Country | Points |
| 1 | Slater,Kelly | USA | 44950 |
| 2 | Wright,Owen | AUS | 39900 |
| 3 | Parkinson,Joel | AUS | 35400 |
| 4 | De Souza,Adriano | BRA | 31950 |
| 5 | Kerr,Josh | AUS | 30800 |
| 6 | Burrow,Taj | AUS | 29250 |
| 7 | Fanning,Mick | AUS | 28200 |
| 8 | Smith,Jordy | ZAF | 27500 |
| 9 | Flores,Jeremy | FRA | 23700 |
| 10 | Bourez,Michel | PYF | 22250 |
| 11 | Wilson,Julian | AUS | 21400 |
| 12 | Buchan,Adrian | AUS | 20250 |
| 13 | Muniz,Alejo | BRA | 20150 |
| 14 | Alves,Heitor | BRA | 19200 |
| 15 | Andre,Jadson | BRA | 19150 |
| 16 | Hobgood,Damien | USA | 18950 |
| 17 | Pires, Tiago | PRT | 16750 |
| 18 | Wilkinson,Matt | AUS | 16650 |
| 19 | Durbidge,Bede | AUS | 16500 |
| 20 | Simpson,Brett | USA | 15400 |
| 21 | Patacchia,Fredrick | HAW | 13000 |
| 22 | Davidson,Chris | AUS | 12950 |
| 22 | Monteiro,Raoni | BRA | 12950 |
| 24 | Melling,Adam (Alternate) | AUS | 12000 |
| 24 | Otton,Kai | AUS | 12000 |
| 26 | Ross,Daniel | AUS | 11750 |
| 27 | Payne,Dusty | HAW | 10700 |
| 28 | Hobgood,C.J. (Cut from the tour) | USA | 10250 |
| 29 | Perrow,Kieren | AUS | 9750 |
| 30 | Logie,Travis | ZAF | 9250 |
| 31 | Martinez,Bobby (Cut from the tour) | USA | 7450 |
| 32 | Knox,Taylor | USA | 7250 |
| 32 | Gudauskas,Patrick | USA | 7250 |
| 34 | Lopez,Cory (Cut from the tour) | USA | 6750 |
| 35 | Kling,Gabe (Cut from the tour) | USA | 4250 |
| 36 | Reynolds,Dane | USA | 3000 |
| 37 | Medina,Gabriel | BRA | 1750 |
| 37 | Florence, John John | HAW | 1750 |
| 37 | Whitaker, Tom | AUS | 1750 |
| 40 | Pupo, Miguel | BRA | 500 |