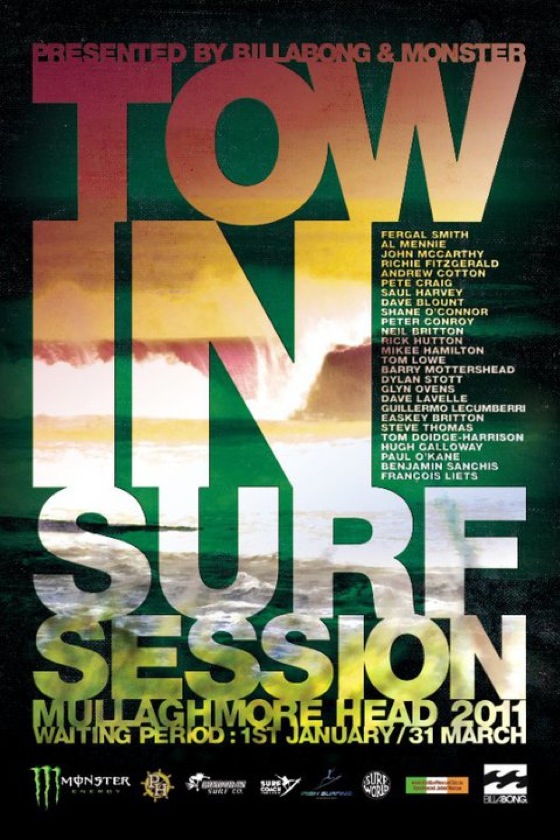 Mullaghmore Head was the site for the first big waves tow-in surf contest in Ireland.
Billabong are infamous for their big wave contests around the world. Each year hundreds of die-hard big wave riders compete in Billabong's XXL Big Wave Awards and the events attract the attention of the media and spectators alike. Finally, after years of incredible photos and surf films, Billabong has just held the first big wave tow in surf contest in
Ireland
... and the waves didn't disappoint.
You could have been starring at a massive Teahupoo set as the waves pummeled in to the reef at Mullaghmore Head, County Sligo if it hadn't been for the cold water conditions. The 20-25ft waves hit Mullaghmore over 13th and 14th February, and created deep, extremely powerful barrels that were so fast moving, that even the best of watermen couldn't paddle into them. It was time for the jet skis.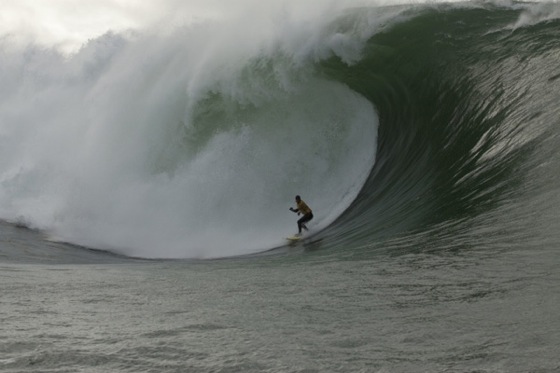 Twenty-two tow in surfers gathered in Mullaghmore from around the world to compete in the awe-inspiring conditions over the last two days. Each surfer had a buddy who drove their jet ski in order to whip the surfer into the on coming big waves at the critical moment. The jet ski's speed enabled the surfer to travel fast enough to keep up with the giant wave, and hopefully ride it to safety. However, big wave surfing is incredibly dangerous, so extra jet skis remain close to the white water/ wipeout area of the surf in order to pick up any surfer who got stuck in the impact zone.
Out of the eleven teams that competed in the Billabong event there were some who particularly stood out. Billabong team Benjamin Sanchez from
Hossegor, France
and Eric Ribiere from the
Canary Islands
, took first place in the International title, whereas in the Irish title it was Peter Conroy and Glyn Ovens who claimed the victory. Here's the break down of who won what:
1st place: Benjamin Sanchez & Eric Ribiere (FRA/CNY)
2nd place: Peter Conroy & Glyn Ovens (IRE)
3rd place: Al Mennie & Andrew Cotton (N-IRE/GBR)
4th place: Gabe Davies & Richie Fitzgerald (GBR/IRE)
1st place: Peter Conroy & Glyn Ovens (IRE)
2nd place: Al Mennie & Andrew Cotton (N-IRE/GBR)
3rd place: Gabe Davies & Richie Fitzgerald (GBR/IRE)
4th place: Mikee Hamilton & Dave Lavelle (IRE)
Wave: Gabe Davies (GBR)
Wipeout: Richie Fitzgerald (IRE)
Barrel: Al Mennie (N-IRE)
Radical Turn: Barry Motterhead (ZAF)
Committed: Shane O'Connor (IRE)
Pick-Up (Water Patrol Award): Lyndon Wake (GBR)
Special mention needs to go out to one of our favourite surfers: Easkey Britton from Rossnowlagh, who represented female big wave riders everywhere when she charged and completed a 20ft+ roaring barrel in the contest. Amazing.
Check out the highlights of the day in the film below: