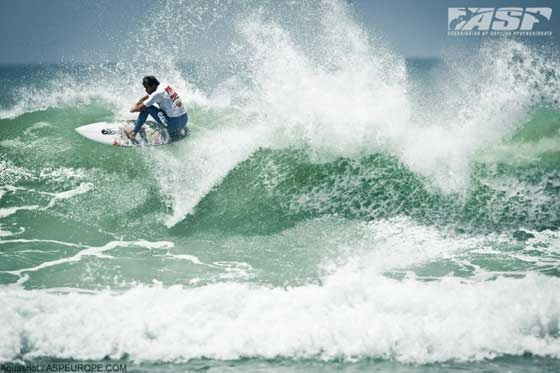 In the sunlit waves of Ribeira D'Ilhas Julian Wilson (AUS) won the Quiksilver Pro Portugal yesterday. The smooth as silk surfer defeated Brazil's Gabriel Medina in the shoulder high conditions to claim his best result of the year on the ASP's world tour.
Wilson beat Medina with a massive score of 19.37 to 12.83, showing the crowd and everyone watching online how to surf the pointbreak righthanders of Ribeira D'Ilhas. Medina was out maneuvered by Wilson's two 9 point rides, one which was a 9.5 and the other a near perfect 9.87, not bad for someone who came to the event by himself just looking to get through a few heats.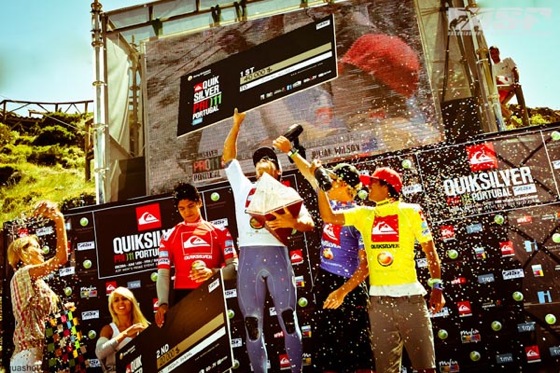 Quiksilver will be particularly pleased with the event's results, as Wilson has been sponsored by them since he was a grom and appearing in the Young Gun films with legendary Kelly Slater. The boy's done good.
After Quiksilver chose to hold a 6* contest last October in Ericeira everyone had been curious to see how the follow up event would turn out. Bumped up to become a Prime event on the ASP's world qualifying circuit, the Quiksilver Pro attracted some of the best surfers on the planet, and brought out our Euroforce of Ericeira's own Tiago Pires, and Hossegor's Marc Lacomare and Jeremy Flores.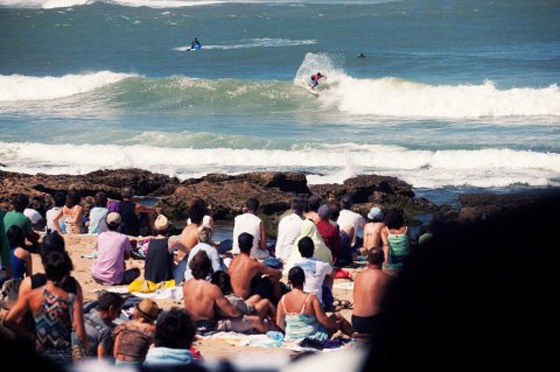 Out of the Euroforce team it was Flores who managed to make it furthest, making it to the quarter finals only to be defeated by the in form Medina. Other standouts in the quarter finals were Hawaiian John John Florence, who had recently recovered from a back injury at Pipeline, and Brazilian Miguel Pupo, who has now leapt up into the top 32 so should be joining the WCT at the mid year cut off.
Attention now turns to the next major events such as the ASP's Prime contest Mr Price Pro Ballito, which will be running from 4th to 10th July at Ballito, South Africa, and the Billabong Pro at Jeffreys Bay (14th to 24th July) also in South Africa. The prime event will be critical in helping World Qualifying Series (WQS) surfers gain access to the World Championship Tour (WCT) events.
Look out for a good mix of the elite surfers mixed with up and coming surfers from South Africa and the WQS at the Mr Price Pro Ballito. Check out the live coverage at
www.mrpricepro.com
, especially as it is only GMT+2 hours so wont require any late night sessions to watch it. It will be the warm up for the WCT event at Jeffreys Bay that will be broadcast online at
www.billabongpro.com/jbay11
If you missed the action at the Quiksilver Pro Ericeira, Portugal check out the clip below of the final and marvel at Wilson's insane snaps.