This was our 4th visit back to Ericeira with surfholidays.com and it keeps getting better every year. We love the town (it's so cute – not too touristy at all) and also the fab surf lessons and general chilled out atmosphere. We stayed in the Anna Margarida Villas for the first time and they were out of this world.
The photographs on the website really don't do them justice at all! There are so many quirky little places to find, I don't want to give too much away, but……. there is a secret staircase up to the top of the roof terrace (the 2 bedroom villa) which gives a lovely view of the pool and beach. There is also a little walkway up past the top BBQ area which brings you to a cute seating area (behind the hammocks) where you can sip a drink whilst watching the sun set over the sea….. There is also a hidden pathway to the left of that seating area where there is a hidden sun lounger perched overlooking the sea. I'm sure there are many more things we didn't find on this trip too…..we'll just have to come back again and find them I guess!
We were a group of 7 and we shared the 2x bed villa (shaped like a boat with its own moat!) and also the neighbouring 1x bed house which had a really quirky ceiling (sea & Pool view Villa). The boat villa was huge! The 1x bed we stayed in was just beautiful, it had a very quirky ceiling decoration and a shower made out of glass bricks which made you feel like you were showering outdoors (tucked inside a rock wall thankfully, so not exposed!). Then there is an honesty bar, free roaming peacocks, a lovely pool and (at least) 2 BBQ area's.
The beach is a 2 minute walk down a few steps. We didn't surf on that beach, but there were people out there most days. The Quicksilver surf shop opposite the villa's was really good too. Aside from selling lots of surf related clothing / sunglasses etc, it also has a really cheap bar in it (great idea….!). We were walking on Friday night and noticed there was a live band playing in-store so we popped in…..it was a great night! It also has an area with huge mac computers which can be used and outside there is a balcony where you can order a drink or two and watch the local kids in the purpose built skate park (Ericeira has some pretty cool skate kids!). There was also a DJ box outside…. but we didn't see that used whilst we were there.
We found the food and drink in Ericeira to be very cheap and we ate like kings for the week. Our favourite in-town restaurants were, Tik Tapas and Prim. But our favourite meal had to be the sushi which they serve down at the beach where the surf lessons are held (I think this is usually on a Thursday night). It's the best sushi I've ever tasted. I would seriously consider booking a Thurs – Fri holiday next year just so we can have sushi twice during the holiday! It's one not to miss (make sure too book up early at the Na Onda bar to reserve a place). If sushi isn't to everyone's taste, they also serve great pizza's. If you like mojito's, I'd recommend you try the local cocktail "caipirao" which is made with Beirao Liqueur, freshly squeezed limes and sugar (I think it contains sugar as it tastes quite sweet) – you won't be disappointed. Ericeira town itself is lovely, a few little cute shops (although I never got to grips with the opening hours to be honest!)
The surf lessons and surf instructors are really good. The lessons are fun too, so even if you're like me and inclined to spend more time falling off the board than surfing on it, you'll enjoy yourself! The waves were too strong to surf on the main beginner beach for a couple of days during the week so the instructors packed the boards and wet-suits into a van and we all made our way over to Peniche beach instead. I was very impressed with that as otherwise we would not have got as much surfing done.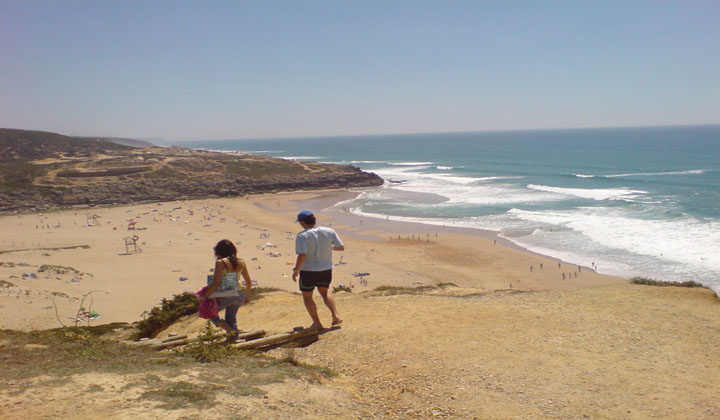 This was also the first year that we did not hire a car, we used the stop-and-go taxi's (Renata) and it really did make such a difference. Renata is fantastic, we'll never hire a car again. She picked us up and dropped us back to the airport, dropped us off and picked us up from our surf lessons every day (via the local supermarkets as required!). She also drove us the hour to Peniche beach and then waited until after our lessons to drive us home again. A very relaxing and stress free alternative to car hire (and it cost us less to use taxis than it would to have hired a car)! All-in-all, another fantastic, relaxed holiday.
Nicky, thanks again for all of your help organising our 2011 trip! I'm certain we'll be in touch with you before too long about organising our 2012 trip! -
Mandy, Eoin, Ted, Sandra, Leslie, Louise and Danielle, London

----


Mandy and co. stayed in the
Anna Margarida Villas
in
Ericeira
, Portugal, 35 minutes north of Lisbon
.


This article was added by
Nicky Kelly