The below article was published in the Sunday Business Post, January 29th 2012, written by Lisa Brady

If you've ever harboured notions of taking on the waves, a surfing Mecca in Portugal could be the place for you, writes Lisa Brady
After spending most of my 32 years keeping my head above water, last year I finally conquered my fear of immersing myself completely in the stuff. Ridiculous as it sounds, I have no problem with water depth, temperature or location; it is the act of putting my face in it that I take issue with. So when I realised that I could actually go underwater and survive, I was a little bit smug.
The chance to further my water education then presented itself in the form of a beginner's surfing holiday. The location was
Ericeira
in Portugal, a pretty fishing village about 40 kilometres north of the country's capital, Lisbon. The area was designated a World Surf Reserve last year, and the name apparently originates from the Portuguese name for sea urchin. Ericeria is a Mecca for surfers, with thousands of people flocking annually to enjoy its beaches, mild weather and near perfect waves.
We were staying in one of the
Anna Margarida Villas
, where were commissioned by the town mayor some years previously. "Designed like traditional Portuguese fishermen houses" was the official description, but the gated complex has an air of surrealism of which Picasso would have approved.
Upon arrival, we spotted at least seven peacocks lording about, followed by inquisitive ducks, who peered at the carp swimming in a nearby pond. At the poolside, a stone mermaid stared forlornly at her refection, while beside our gingerbread-house stoof a 'boat vill' - yes, that's a house in the shape of a boat.
Inside the cute exterior, our villa was ablaze with moasaic, murals and terracotta tiles. A decorative sculpture carved like coral reef hung from the ornate ceiling. The complex also has an honesty bar and a barbeque pit, and, as a nice touch, individual chairs and beds have been placed throughout the garden and seafront, perfect for some quiet reflection.

The complex is the only one in the town set on a beginner's/intermediate surf beach and it provided a great soundtrack to our stay. The beach where our surf lessons would take, Foz do Lizandro, was two kilometres away. The sandy stretch includes a pavilion area with a cafe, juice bar and restaurants, where surfers and bathers alike come to eat, chat or watch the action.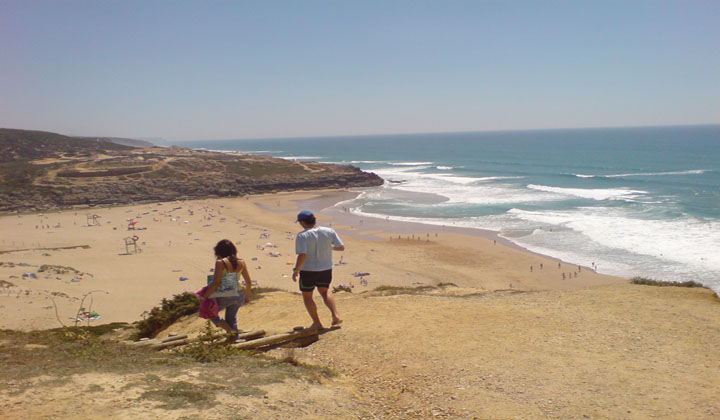 Our group lessons would be over three days, two hours at a time, and our surf instructor assured us that by the final lesson, over 70 per cent of his students could ride a wave. No pressure then.
Our warm-up consisted of running on the beach wearing our wetsuits in 32 degrees Celsius. We then did some yoga stretches to limber up. Next we had to learn surf techniques, including the body pop (basically an entire push up to standing from lying down) and foot positioning on the board. After another 20 mintues of this, my arms were burning, my knees ached and I was ready for a lie-down - but we still hadn't even been in the water.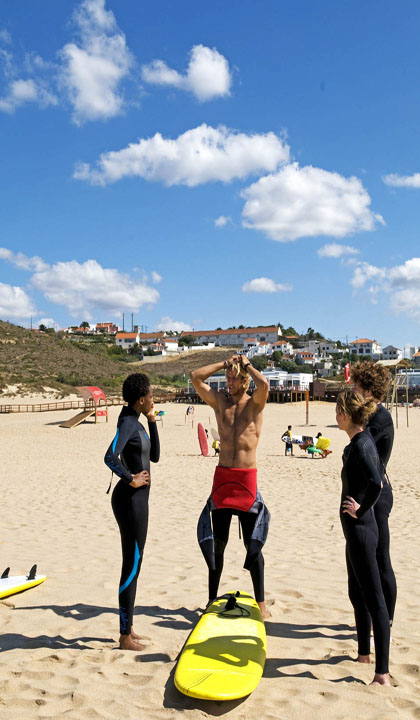 The next hour or so consisted of my doing battle with the board: falling off it, trying not to fall off it, trying to stand on it, refusing to try to stand on it. However strong my intentions were to stay upright and ride that wave, the sea (and my co-ordination) had other plans.
THe twin German sisters, also surf virgins, flipping their bodies like water gymnasts did little to lift my darkening mood. THe only consolation I got was looking over at my partner, who seemed to be having similar luck.
"I was better in Donegal," he insisted, when I brought up the fact he'd had lessons before. "They teach you the start position differently- using your knees," he said, before demonstrating and emerging from the water spluttering and winded.
Whatever the reasons, we were not good. The next day, we fared no better, although after standing for a millisecond without crashing and getting some positive feedback from the surfing instructor, I felt a glimmer of optimism.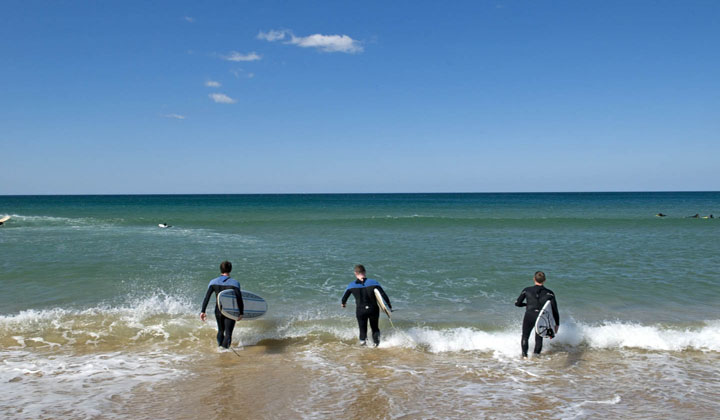 I was surprised by how much not being able to master it affected me- I started practicing body pop up and foot positioning on my own accord that evening. I thought I was pretty fit, as I do plenty of exercise and yoga, and thought this should be a cinch. It was becoming clear just why surfers have sculpted bodies. It is hard work.
However, at sunbathing and eating I still excel, so after a dip in the pool and a rest in the evening sun, the old town of Ericeira beckoned.
Perched atop a cliff with spectacular coastal views, the village is charming, with cobbled narrow streets, squares lined with citrus trees, churches, monuments and whitewashed buildings. The ambience is authentic and chilled, and because we visited off-peak, it was quieter than it would be in the midst of summer.
The local cuisine is superb, especially the seafood, and there are lots of restaurants from which to choose. The town speciality of gambas (shrimp) with steak served on wood slabs, washed down with a nice Douro wine was one highlight, but over the course of our stay we also sampled some delicious Portuguese tapas, an array of shillfish and the most amazing stone-baked pizza at Ribeira D'Ilhas beach, where the Quiksilver Pro Surf event is held every year.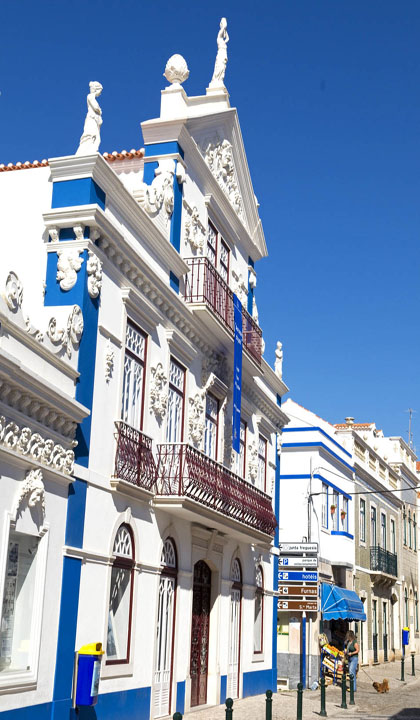 This place is the hub of the surfing community and is always busy but worth a visit - if only to sample the food and ogle the pro surfers at the world-famous point break, Coxos. The area is lined with wide whites beaches with waves to suit all levels of surfers, and is nice to explore even if you're not catching the waves.
Ericeira is, indeed, a surfer's paradise, but windsurfing, body boarding, horse-riding and hiking are also provided, while there are golf courses a short drive away.
Lisbon is also nearby, offering culture, history, shopping and nightlife. For those who like a bit of sightseeing outside the capital, a trip to nearby Mafra on the coast many be of interest. It is home to the Palacio de Mafra, a huge baroque monument built in 1717 that was one of the biggest buildings constructed in that century, with one of the largest palaces in the world.
Sinta, described by Lord Byron as "glorious Eden", is about a 90 minute drive away. We were told of its steep mountains, lush forests, Disney-like palaces and neo-gothic towers, but as time was limited, I made a mental note of visiting on my return to the area.
Waking up on day three, I noticed something had changed. I stood, cradling my board as the ocean roared before me and surfers were thrown like leaves in the wind. The weather had turned. It was colder and the sea was no longer waiting patiently for me to learn. it now seemed furious.
"There is a different sea today- it has much more power in its waves. Be careful," our instructor warmed. I gritted my teeth, and tried to focus. THis time, the battle was not with the board, but with an angry sea and my bubbling fear.
Time and time again, I was brought down, and as the saltwater stung my eyes and the board and the waves walloped my body one final time, I knew my battle had been lost.
There was no Point Break-like action for me: I was pretty much broken. The last half hour I sat it out, taking refuge on the warm sand. Despite the disappointment of not getting the hang of surfing (I've been told since it can take a lot longer than three days), I thoroughly enjoyed the experience and arrived home healthy and toned.
To this day, I am determined to conquer some waves. I love the sea and the energy it brings, and I love a challenge. I would definitely return to Ericeira's beautiful coast- except, next time, I might just try bodyboarding.
FACT BOX:

Lisa Brady travelled to Ericeira courtesy of Surfholidays.com - visit
surfholidays.com
, tel 01 482 2828
Cost:
prices for accommodation at the Anna Margarida Villas start from €469 in low season to €985 in high season for up to 4 people; five days of surf lessons including equipment is €98 per person (€72 for kids uner 12)
How to get there:
Aerlingus flies to Lisbon from Duboin yearround and from Cork from March 25 to October 27. For more information on fares and schedules and to book, visit
www.aerlingus.com
.
Hertz
provided car hire from Lisbon airport; transfers can also be organised by surfholidays.com. Journey time to Ericeira is about 40 minutes
What to bring:
sun cream, arnica cream, flip-flops
What to avoid:
going to beaches on public holidays, as they get crowded
What to buy:
olive oil and wine
What to do:
watersports, walking, watch the sun set on the beach.