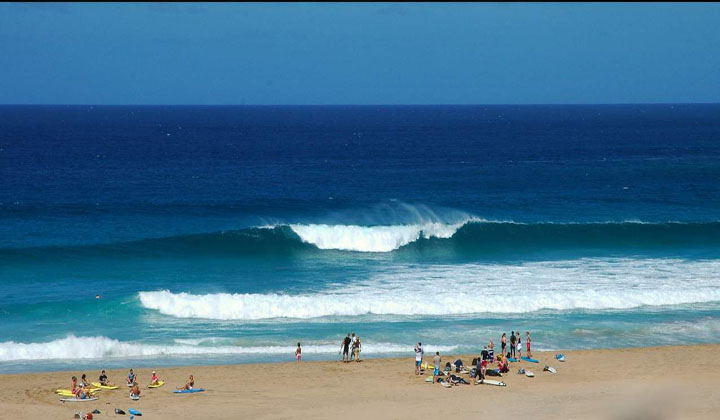 Fuerteventura isn't just a sun holiday hotspot. It's a surfer's paradise, as Pól Ó Conghaile discovers.
This feels good. This is clicking. Crouching low on the board, cutting through white water, I'm heading straight for the beach, maintaining my position. Creased cliffs rise up over the soft golden sands in front of me. And there isn't a soul in sight.
I'm surfing the northwest coast of Fuerteventura. Seconds later, of course, I'm falling from my board, tumbling head over heels into the Great Atlantic Washing Machine. But no matter. I've caught a nifty wave and that's what counts. When I surface, Richie Moore is holding two thumbs up.
Moore, the sun-bronzed owner of Rip Curl Surf School, is my instructor for a week. I'm here courtesy of
Surfholidays.com
, an Irish company packaging accommodation and surfing lessons around Europe. For sometime surfers like me, this is a no-brainer. Not only are you getting good lessons, but you can leave the meteorology to a maverick and get the inside track on the best breaks for one price. Simple - until you stand up on the surfboard, that is.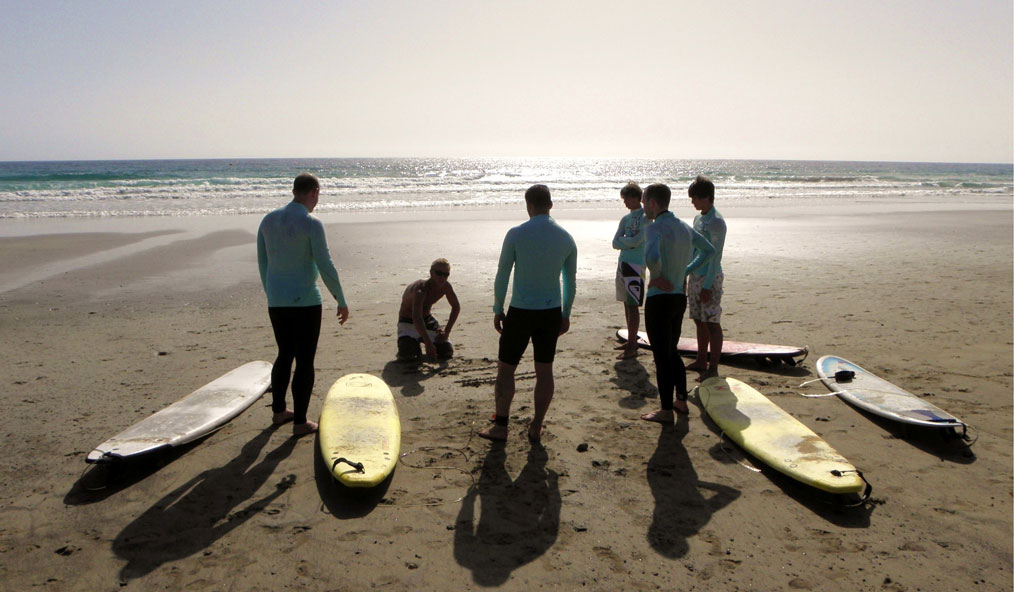 I flew into Fuerteventura with my wife and our two kids - Rosa (six) and Sam (two) - on a Saturday. After taking a day to settle into our accommodation (
Las Marismas
in Corralejo), we arrange my first lesson for the Monday - the idea being for me to get a run at it on my own, before the kids would join in for a fun family lesson later in the week.
Richie picks me up in his trusty VW van. Heading west with four other surfers in tow, I can't get over how spectacularly arid Fuerteventura is. It's like Mordor meets the Med; volcanic mountains punching up out of the earth with the odd tuft of cactus or aloe-vera as a garnish. It's like a film negative of Ireland: a scorched, forbidding place to everything but chipmunks and goats. I'm not at all surprised it's just 100km from Punta de la Entallada to Morocco.
But then we hit the beaches. Steering off the sealed road near El Cotillo, we rattle along a dirt track towards the coast and - bam!- an azure ocean sparkles like a galazy. Little fluffy clouds hover above big green waves, crashing down some 25 metres offshore. Piling out of the van, we grab our boards and make our way down. There is nobody else around.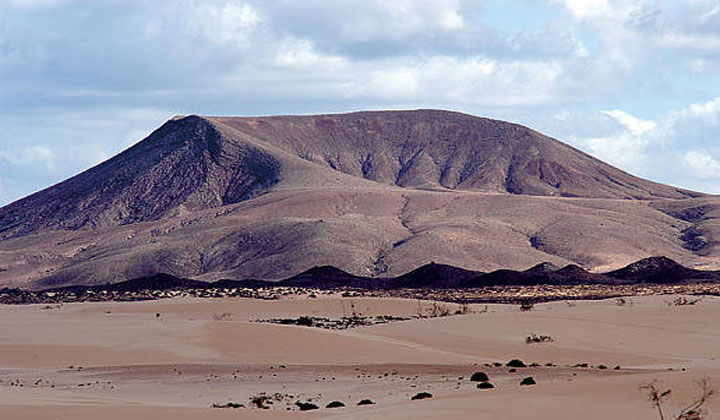 This is the draw of Fuerteventura. Less developed than other Canary Islands, yet boasting more sandy beaches and 3,000 hours of sunshine a year, it feels like freedom. "Que forte aventure!" , Frenchman Jean de Bethencourt is said to have exclaimed after invading in 1402.
After limbering up, we hit the waves. Richie watches from the shoreline, pulling us in now and then to give us tips on technique. Central to his approach is "the second of sanity" - that moment when the waves catches you and you push your shoulders forward, locking your arms and owning the board before popping-up into a standing position. It's easy in theory... but not so much in feisty conditions stirred up by Fuerteventura's notorious winds.
"Mother Nature hasn't done with you yet," he shouts, as I emerge from the froth, forgetting to secure my board, and the next wave crashes down.
All kinds of surfers come to
Fuerteventura
, relishing the frontier-like adventure of its undeveloped coastline. Other Canary Islands may off bigger waves or better breaks (think of La Santa in Lanzarote) but none matches the variety of breaks, and the number of sandy beaches you'll find here. As a result there's something for everyone- from glorified beginners like myself to improves and advanced surfers too.
"You're looking for the sweet spot," Richie tells me. "Where is it? I don't know. It's different for everybody. But when you find it, you'll know. Then you'll have it forever."
He's encouraging too. There are good tips on paddling (go early, watch the wave, use long, slow strokes), and when I do manage to pop-up, hold a decent posture and crouch on the board, he's generous with the whoops of encouragement. He even uses the word "ninja"...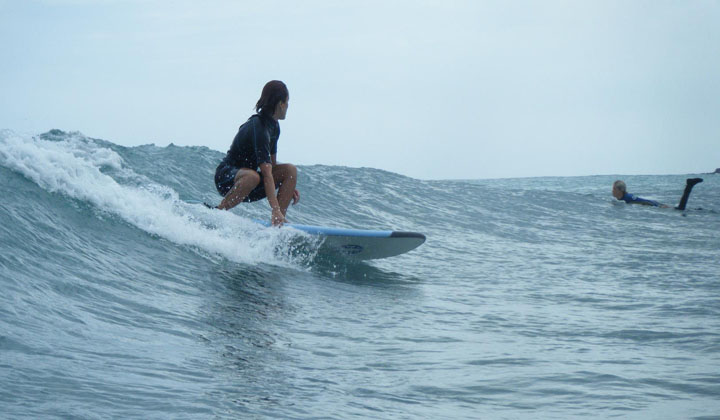 After the lesson, we ride back towards Corralejo, with Richie's mate showing pictures on his iPad. "The thing I like about surfing is that you don't really have a sense of time," says one of my fellow surfers, an English woman in her twenties. "You don't say, 'let's wind up in five minutes'. You say 'let's wind up after a couple more waves'. You treat time very differently."
Summer is the best time to learn the basics in the Canaries, Richie says. If you're looking for bigger swells, hit the winter sun. "It's the same as in Ireland. When the weather starts getting nasty up there, the bid swells come in. We're surfing the same stuff down here as you are on the west coast - except with sunshine, shorts and T-shirts."
Over the next few lessons, I gradually start to see an improvement. Nothing dramatic, no "Eureka" moment, and lots of stuff limbs and wipe-outs - but there is a pay-ff. The "second of sanity" becomes a habit, freeing me to concentrate on the pop-up, the crouching position, the action on the board. I learn to loosen the back knee, look for the tension in my front thigh. I start catching more waves and riding them for longer.
Typical is our third lesson, on an off-radar beach near Tindaya. Scrambling through bushes and black lumps of basalt with our boards, we flop into the surf, and spend the best part of an hour batting really punishing wind and white water. It's dispiriting and I'm knackered, but Richie keeps things oiled, pumping out the enthusiasm and encouragement.
"Yes, you fell off. But your paddle was great, you held for that second of sanity, and you popped-up well. You win some, you lose some. Next time, keep the chin up."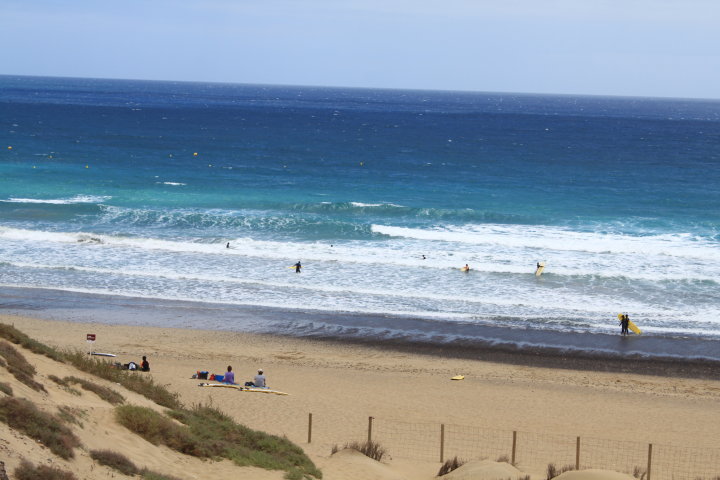 By lunchtime, things are looking up. The tide has come in. The waves have changed. There's more time between sets; the big ones are breaking closer to shore and there's enough time to gather thoughts before getting up on the board. After crashing out a gazillion times, it's amazing how one good wave can stoke you all over again.
"Wahoo! That was effortless! It was like you were waiting for a bus!"
I break on the beach for an orange. Cutting it with my penknife, sapping the salty taste of the sea with its fresh juicy flesh, it's the best bit of fruit I've ever tasted.
As the week goes on, the expeditions become a morning ritual. Richie's dog, Patch, sits between the front seats. Richie plays tunes off his iPhone. "We like this one! It's our surf song!" our English friend cheers, as Manu Chao sparks to life. I love the sense of this happy van, surfboards piled high on the roof, motoring through a Martian landscape in search of surf.
By Friday, I'm ready to bring the kids along. Following behind the VW in our rental car, we wind through the mountains to the west coast. At another deserted beach, Rosa gets her first lesson, pulling on a yellow rash vest and taking a souvenir-sized board into the shallows. She starts lying down, with Richie holding her until a wave comes, and then releasing her to ride with it. She's a natural. Before we know it, she's clambering to her knees. Richie paints an X on the middle of the board with a stub of wax. She manages to stand on it.
"Kids are the easiest lesson," he says. "You just say 'stand up', and they go 'okay'."
Determined not to be outdone by my six-year-old, I spend our last morning trying to focus on all I've learned. By avoiding the big waves and sticking with the "medium" ones (as Richie charitable calls them), I can take the time to correct my feet, play with my posture and move my body around. It feels good, like all the time in the Washing Machine has paid off.
Fuerteventura is exactly what I needed. As a working father living on Ireland's east coast, I'll never realistically get to surf more than couple of times a year. But getting out several times in the same week, in the sunshine, on windswept beaches, in the company of an instructor who knows his technique and his turf, has given me a big boost. And all whilst hitting sandy beaches in the afternoon with the kids and eating seafood but the port in the evening...
By the time it comes to leave, I'm no longer bemused by the surf shops in every sleepy, slow-motion village on Fuerteventura. I'm smiling like someone let in on a secret.
Getting There


Aer Lingus flies from Dublin direct to Fuerteventura, Tues and Sat; from Dublin to Lanzarote, four times weekly, from Cork to Lanzarote, three times weekly, and from Belfast to Lanzarote, four times weekly. For all other Aer Lingus flights to the Canary Islands, aerlingus.com
Hertz car rental Cara would like to thank Hertz for their assistance. For best car rental deals, visit aerlingus.com and click on the Hertz icon. Or call reservations from Ireland, 01813 3844.
Surfholidays.com is an Irish owned company specialising in European surf holidays - in Fuerteventura, Pól took lessons with Rip Curl Surf School and stayed at Las Marismas in Corralejo. A seven-night stay in Las Marismas for a family of four, including three days of surf lessons and return airport transfers, starts from €267pp from October to December