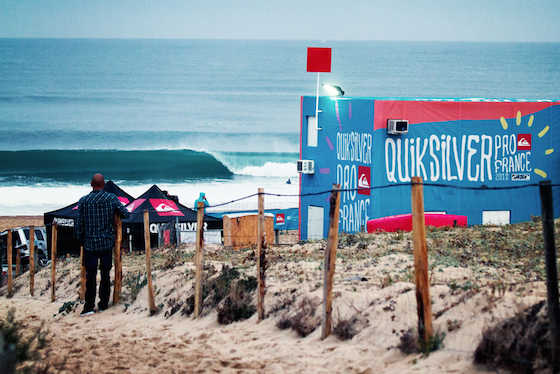 Surfers the world over know that when it comes to Europe, there is this amazing mix of surf, culture, food and drink. It is all about getting out of some pumping surf, and rewarding yourself with the local seafood or meat dish, and washing it down with a healthy glass or two of wine or beer.
When the autumn swells push through from the Atlantic Ocean it is time for the ASP's world championship tour to head to the French and Portuguese coastlines to kick off the final leg of the year long tour. Cue event number 9 of 11: the Quiksilver Pro France.
Held in the heavy waves off the coast of
Hossegor
in the south west of France, the Quiky Pro has been taking place since 2002. This is the surf spot when the contenders for the world title make their mark- one way or another. Last year Australian
Mick Fanning
took an unprecedented 4th win a the Quiky Pro and proceeded to go on to win the entire tour for a third time. France could be the turning point for who claims the world title this year… so watch out for top 5 contenders in particular: Gabriel Medina (BRA), Kelly Slater (USA), Joel Parkinson (AUS), Mick Fanning (AUS) and
Michel Bourez
(PYF).
Check out a sneaky preview of what to expect in Hossegor's infamous barreling waves in the clip below:
Although a lot of attention has been given to the Quiky Pro over the last decade, focus should also turn to the amazing women's tour that now runs almost simultaneously to the men's competition.
The Roxy Pro France has been taking place in Hossegor only since 2011, but already the event has already made its mark as part of the women's ASP world championship tour. The inaugural event saw x5 world champion
Stephanie Gilmore
claim the 2011 win, and even followed it up in 2012. However 2013 saw fellow Aussie
Sally Fitzgibbons
take the top spot… Australians seem to be having their way with the French event, so it will be interesting to see whether one of the two top 5 ranked Hawaiians-
Carissa Moore
or Malia Manuel can prize the event win away, or if other top 5 Aussie Tyler Wright will swoop in.
Once the Quiksilver Pro France and the Roxy Pro France have been settled the attention moves to the warmer shores of Portugal. Watch out for incredible tube rides at the Moche Rip Curl Pro Portugal held in
Peniche
: 12th - 23rd October for the men's event when Aussie Kai Otton will defend his title. Also watch the women and Carissa Moore defend her title by battling it out in the penultimate event in the world title race at the Cascais Women's Pro in
Cascais
: 1st - 7th October. Watch this space for updates on how the European tour develops…